As Seen On TV
Featured On HGTV's "Curb Appeal"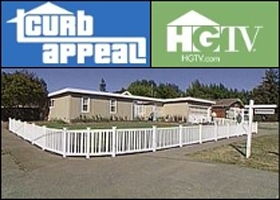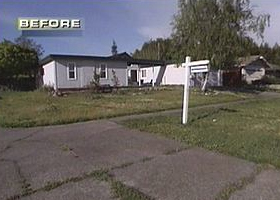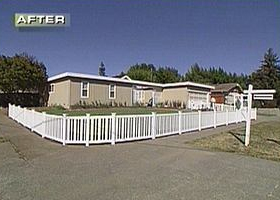 A Vinyl Fence & Deck Wholesaler was recently invited to be a guest on an upcoming episode featuring Vinyl Fence Products. You can catch the episode on Tue. 9/16 @ 7:30 pm, Tue. 9/16 @ 10:30 pm, Thu. 9/18 @ 3:30 pm and Sat 9/20 @ 1:30 pm. Be sure to check local listings to confirm air times.
A Vinyl Fence & Deck Wholesaler's President Travels To California To Be A Guest On "Curb Appeal"
We have always considered the beauty of our products to be one of the best benefits of selecting a vinyl fence. See how one family in California added the benefits of vinyl with the desire to improve the "Curb Appeal" of their home on HGTV's "Curb Appeal."
The show will feature the installation of our vinyl fence factory direct products at a featured home in Navato, CA.
Clean Contemporary:
Juan and Jaime Peralta have a '60s Contemporary-style home with an eclectic combination of design features from past remodels. The project emphasizes clean lines in keeping with the original contemporary design. Old fixtures are replaced, and some new paint and landscaping round off the project. Our vinyl fence, factory direct, finishes off the impeccable landscaping work done by the crew.
Ann Jones, the Designer, helps tie together the modern look by replacing the windows, doors and giving the yard and patio an updated look. Here's how they accomplish it:
New windows and doors for the front entry.
Square stones in the patio replace the old cobbles.
Low maintenance vinyl trellises for the patio.
The Patio area gets painted red to set apart the front entry better.
New stone pavers line the pathway, and an arbor marks the gateway to the entry.
A new fence with straight modern lines to compliment the house.
Khaki colored paint trims the house.
There's a clean new lawn with lots of colorful beds

Hosted by Rick Spence, this series shows how to make the most of a home's appearance. Viewers learn to look at their homes with a fresh eye and make great ideas a reality. Each episode takes on a real house, where guest experts learn the owner's wishes and propose projects to improve the home's appearance. A "virtual makeover" then shows how to further increase the home's curb appeal.
About The Show:
On Television
Take a fresh approach to the way you live with Home & Garden Television. You'll find ideas and inspiration to transform your space, and the expert help you need to accomplish it. Of course, sometimes you'd rather dream than do. That's when you can join us for a peek into extraordinary homes around the world and the people who live inside.
Online
At HGTV.com, you'll find even more of what you love about HGTV: instructions for thousands of home and garden projects, video tips, an interactive Program Guide and episode finder, Calculators, Message Boards and more. Just click on your favorite topic; Decorating, Remodeling, Gardening, At Home, Crafts, to learn the latest on enhancing your nest. And be sure to visit the HGTV Store for unique home and garden gear.