Heavy Duty Vinyl Gates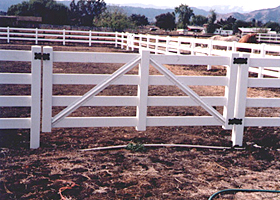 We offer a variety of PVC fence gates to match all of our residential and commercial fence styles. Browse below!
We carry matching gates for all residential and commercial fence styles, plus ranch and horse fencing gates. Our vinyl gates are complete gates that include everything to build a gate that will last a lifetime! All of our gates are swing gates, but if you need a custom gate we can make it! We do not carry automatic gates, however our vinyl can be adapted to most automatic systems.

---
Matching Vinyl Gate Systems – Hardware Components
Our heavy duty vinyl gates include the best gate hardware available. The hardware is stainless steel powder coated black and comes with a lifetime warranty. No more rusting! As an upgrade we also carry black polyvinyl hinges that are "multi-adjustable" for vertical and horizontal adjustment plus tension adjustment for self-closing. Our latches are standard stainless latches to match our stainless hinges. If you have a pool, ask for our upgraded latches that are key lockable and BOCA approved! If your pool requires a magna latch or lock, we have that available as well. Contact us for pricing. The double drive gates also include a key lockable drop rod. If you want your own custom gate size you can reduce the size on site! We also have an available aluminum post insert for the hinge post for your gate. This aluminum insert is specifically designed and engineered to allow our vinyl post to support the gate without any sagging. Cost per insert is $55.00. This replaces supporting the hinge post the old way of filling it with concrete and rebar. Let us know if you would like this included in your quote! Call today for any questions or if we can provide a quote for your project!

Lock Latch
Series II
Lock Latch
Deluxe

Multi-Adjust
Hinge Set

Gate
Handle

Gate Stop
With Screws
Stainless Steel
Adjustable Hinge
Stainless Steel
Post Latch

Stainless Steel
Drop Rod

In Addition
To The Actual Gate,
All Of Our Gate Kits
Include:
High
Quality Stainless Steel Latches

High
Quality Stainless Steel Hinges


Stainless Steel Hardware
When you
need an extra large gate, like for a
driveway, we can also provide a double
swing Gate.  Simply combine 2 gates
together. We automatically include 1
Drop Pin Kit  per double gate.


Top Latch
Pull

Lock Bolt
24″
Vinyl gates that you can afford – contact us today!