4 Simple Yet Creative Ways to Make Your Vinyl Fence Gate Locks Secure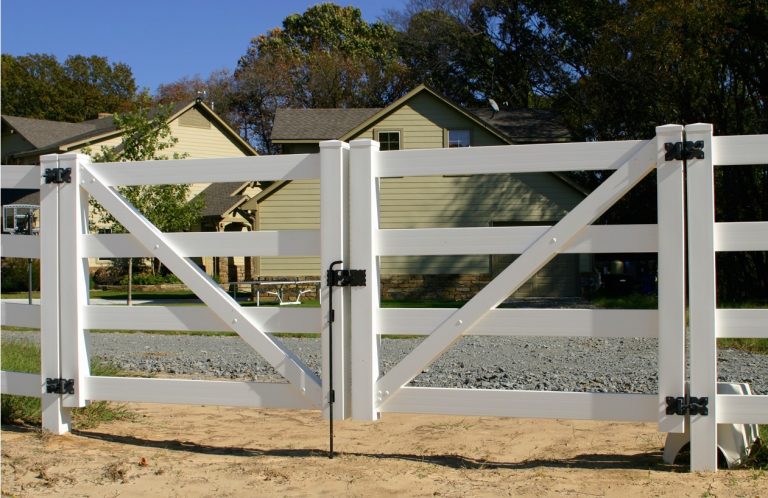 No fence is truly satisfying your security needs without a locking device. Potential intruders can easily access your property if your gate isn't properly locked. Neighborhood children could let themselves into your backyard without your knowledge, using your pool — and leaving you liable if they're injured. Your pets could wander off your property and get lost if they're not securely contained behind a locked fence.
There are several reasons why you need a proper vinyl fence gate lock system that will protect your home and yard from any acts of mischief.
Below is our list of locks you can install on your fence without breaking a sweat. These locking devices go beyond a typical vinyl fence gate latch and don't take long to install. Here's what we suggest you try.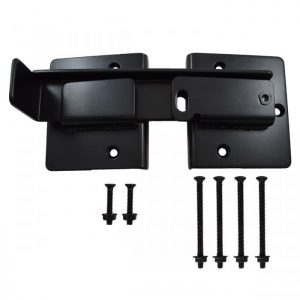 1. Adjustable Flip Latch With Padlock
For homeowners looking for an effective vinyl fence double gate lock, an adjustable flip latch is a reliable option. This locking mechanism is relatively basic.
On the inside of your double-gate fence, you'll install a stainless steel latch screwed onto your fence that will connect both gates together. The latch itself makes it nearly impossible to get through the fence from the other side.
You can take another step toward security by locking the latch with a padlock.
Choosing the Right Padlock
Padlocks are relatively cheap to buy at any convenience store in your area. You can purchase a combination padlock similar to the ones you used on your school lockers for about $5. The downside to these locks is that they are usually ⅓-to-⅛-inch in diameter. This makes them easily breakable with a bolt cutter.
We recommend locking any vinyl fence gate latch with a closed shackle padlock or a discus shackle padlock. These locks are designed to protect the shackle on the padlock so they cannot be cut. Make sure they are lockable with a key.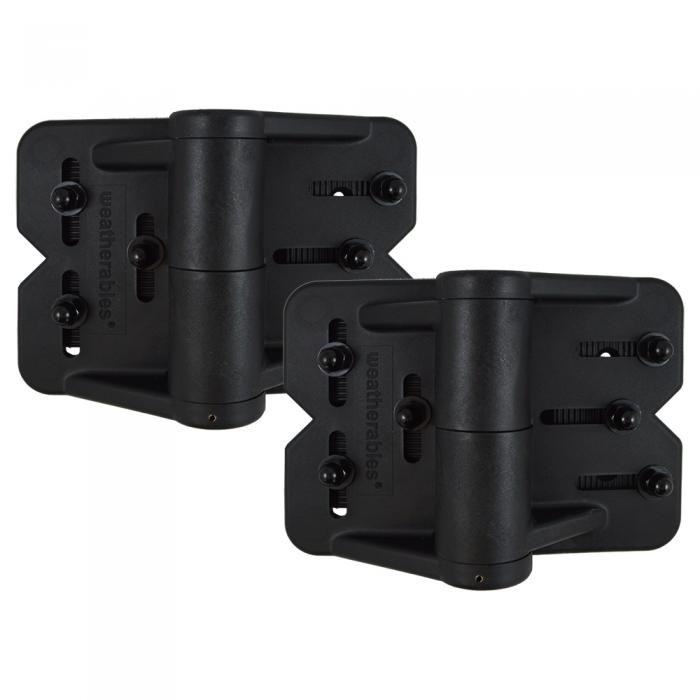 2. Self-Closing Multi-Adjust Hinges
Every vinyl fence gate kit comes with hinges so your gate functions properly. Installing self-closing hinges will improve the security of your gate tenfold.
How many times have your hands been occupied or you've been unable to close the gate behind you while working in your yard? Self-closing multi-adjust hinges will close your fence's gate for you so pets and kids can't wander off while you're busy working.
We suggest installing these self-closing hinges on the inside of your fence. This way, potential intruders can't access the hinge and unscrew or break them off your gate when they're trying to avoid the locks.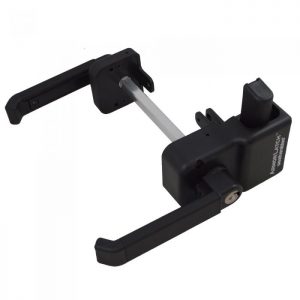 3. Vinyl Fence Gate Latches
The beauty of a vinyl fence gate latch is its simplicity. It's essentially adding a doorknob to your fence that you can lock with a key. Installing your own is beneficial as you can set the latch height and placement on your gate yourself. We recommend placing it higher on your gate than you would your front door so small children can't reach the latch.
A two-sided lockable latch gives you the freedom to lock your gate from whichever side you're on. If you own a ranch, two-sided locks will help keep your livestock or horses secured while you're moving between pastures.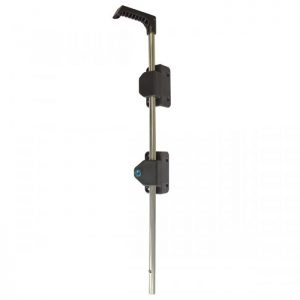 4. Fence Gate Drop Rods
A stainless steel fence gate drop rod is one of the most secure ways to lock your single or double gate. The dop rod is installed on the opposite side of the hinges, or where your gate opens. If you have a double gate, install your drop rod on the fixed gate.
The size of your drop rod doesn't necessarily need to correlate with the height of your fence. A 2-foot drop rod installed at the bottom of your fence will securely fasten your fence gates together.
Drop rods can be installed over any surface. If your gate is above concrete, you will need to drill a receiving hole into the ground. If you're over grass or dirt, the drop rod will go directly into the ground.
Drop rods are only accessible on one side of the fence. You can also attach a padlock to your drop rod for extra security.
Fence Security Tips
Beyond locking mechanisms and hinges, there are other security tips you should follow when it comes to keeping your property safe — read them below!
• Install an alarm system near your fence gate.
• Set up elevated cameras near your fence.
• Install lights around or on your fence gate.
• Lay cement or a log at the entrance of you gate so nothing can burrow underneath.
• Make sure your fence gate is the same height or taller than your fence.
• Install fence panels tightly next to each other.
Vinyl Fence Wholesalers has a variety of heavy duty gate hardware and vinyl fence gate locks for you to choose from. You can browse our selection of styles that fit best for your single or double gate fence and will secure your property from potential crime and accidents.
Contact us today about customizing your own vinyl fence for additional security!