What Is Skijoring and How You Can Get Started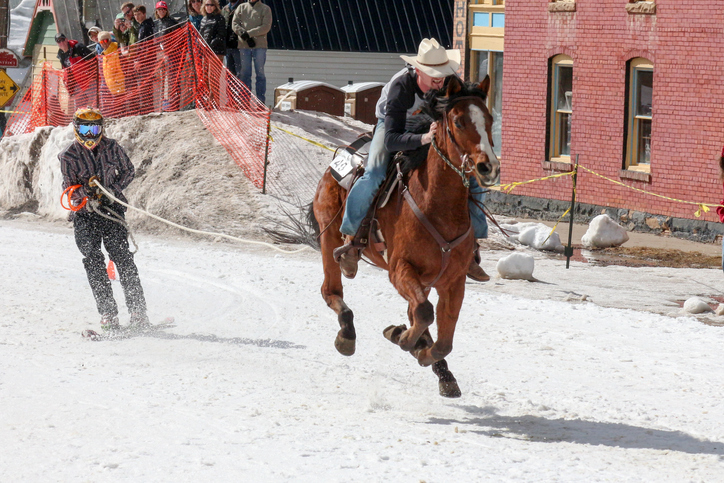 Exploring the outdoors can get challenging when winter temperatures dip below freezing. If you and your horse feel cooped up, there is a Scandinavian sport you can both try. It's called skijoring, and it's growing in popularity among those trapped in sleepy winter towns.
What is Skijoring?
Skijoring (pronounced skee-johr-ing) is a sport where a person on skis is pulled by a horse. People can also skijor behind dogs or a motor vehicle.
Equestrian skijoring consists of a team of a single horse, a rider and a person being pulled behind on skis. No ski poles are needed, just a single tow rope attached to the horse's saddle that's held by the person on skis. Normally, the skier is 8-10 feet behind the horse.
Skijoring's Background
The story of how skijoring was introduced is unclear. Book author E. John B. Allen writes in "The Culture and Sport of Skiing: From Antiquity to World War II" that the first historical reference of the sport happened in China sometime between 1271-1644. He uses a quote from "A History of Chinese Skiing":
"Tens of dogs pull a person on a pair of wooden boards … galloping on the snow and ice faster than a horse."
Equestrian skijoring's start and push into the mainstream is also credited to the Laplanders — the people who live in the northern-most regions of Norway, Sweden, Finland and Russia. They used skijoring as a means of travel and trained reindeer to pull them from village to village.
The first recorded skijoring competition took place during the 1901 Nordic Games. In 1928, the Nordic Games turned into the Olympic Winter Games where skijoring was only featured once, in the inaugural competition, and never again.
How Do I Start Skijoring?
Now that you know what skijoring is, it's time for you to try. Ranches across the United States have more than enough open land to act as a course. Competitive straight tracks are anywhere from 600 to 1,000 feet in length.
It's important for horse owners who want to try skijoring to note that they should get their horse comfortable with the rope and skis first.
Don't jump straight into skijoring with your horse. This sport can be dangerous for the animal if it's not properly trained and controlled by an experienced rider. Make sure you install a durable horse fence near the area where you're skijoring so there is a boundary to prevent the horse from losing control.
Groomed trails are safer for horses and skijorers. As the horse gets more comfortable with towing, you can create moguls and jumps on your ranch to get the real, event-like skijoring experience.
Skijoring Equipment You May Already Have
Before you start training your horse to pull a skier, make sure you have the proper equipment to get started. The good news is if you're a downhill skier, you already own most of the equipment.
It's important you only use downhill skis for skijoring. Cross-country skis are harder to steer because they lack an edge which allows you to turn.
Here's a quick checklist of skijoring equipment you need:
Downhill skis
Ski boots
Helmet
Bindings
Rope attachment to saddle
Towline & Baton
Where Can You Watch Skijoring?
There are several skijoring events that take place annually across the United States. If you want to check out a list of skijoring events, go to www.skijorusa.com. Local horse tracks like Canterbury Park in Minnesota also host their own skijoring events.
A typical skijoring event features a handful of thrilling races and competitions:
Circuit race
Relay race
Sprint
Long & freestyle jumps
If you're going to try skijoring at your ranch, you're going to want acres of space and a strong fence. Vinyl Fence Wholesaler offers the industry's most durable horse fencing. Vinyl fencing provides a boundary that's safe for you and your horse because of its flexible material that breaks cleanly if trampled.
Before saddling up and enjoying this old Scandinavian pastime on your own, stay safe and get a durable horse fence.