9 Reasons Why Vinyl Wood Fences Are Better Than Real Wood Fences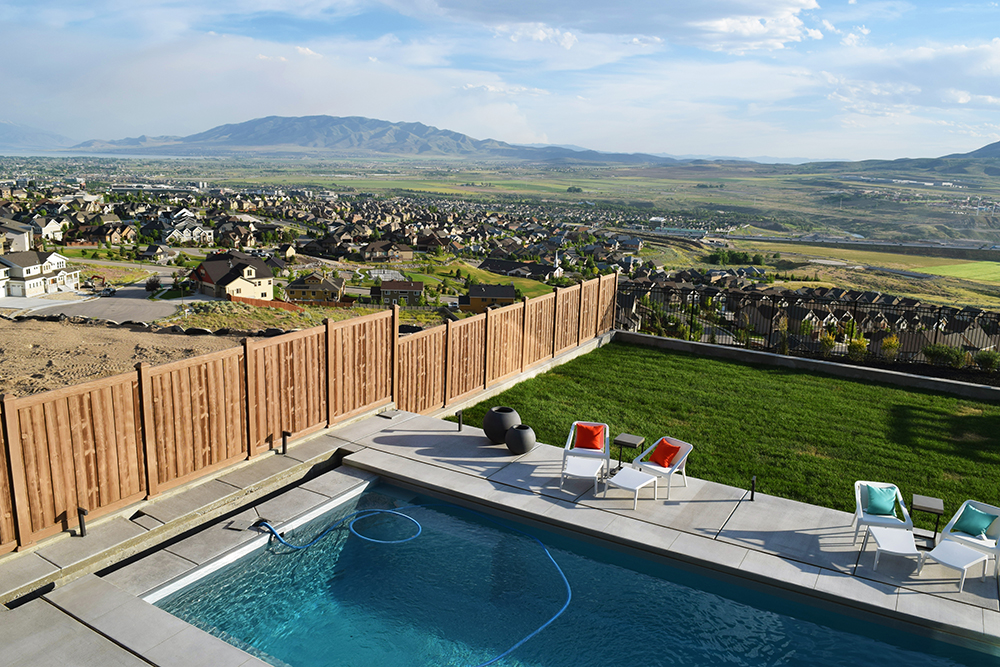 Wood and vinyl are tremendous options if you want to enclose your yard with a fence that's not only attractive but functional. But how long will that function last?
Vinyl is proven to last the test of time, but you still might favor the wood appearance. Have you considered a vinyl fence that looks like wood?
Let's find out why a wood grain vinyl fence is a better option than choosing a real wood fence that's destined to keep you worried about the durability of your fence.
1. Vinyl Wood Is Easier to Install
Installing a vinyl fence is the quintessential Saturday afternoon do-it-yourself project. The prep is minimal and you hardly need any tools. Vinyl fencing comes pre-cut with every piece you need in the packaging. You don't need to spend any time digging around your garage for additional nails as you do with wood.
Wood can come pre-cut, too, but you still need the proper tools to handle installation. That's why many people turn to professionals to install a wood fence. It's challenging to tackle alone.
Some handyman skills are required for vinyl. If you don't feel up for it, you can also have the professionals handle installation. But it's going to be cheaper because the process is much shorter. No cutting and additional measuring is required due to the vinyl's grooves and U-channels that essentially come together like life-sized toy building blocks.
2. Vinyl Wood Provides More Privacy
Vinyl wood fences are extremely durable. This durability will help provide you with enhanced privacy from neighbors and traffic going past your home.
Vinyl wood fences have an STC (Sound Transmission Class) Rating of 26. This means 98 percent of noise pollution will be blocked from coming in and out of your yard. There are also multiple styles of privacy vinyl fences. The Ashland simulated wood fence will project the wood aesthetic while providing ideal privacy.
3. Real Wood Doesn't Last Long in Harsh Weather
Property damage can create a huge headache and lead to unforeseen expenditures on your yard's maintenance.
Avoid hefty maintenance costs with a vinyl fence — wood-grain vinyl fences are wind-certified to withstand gusts of up to 130 miles per hour.
If a wood fence is improperly installed, you could find yourself picking up the pieces around your yard after a storm. Constant gusts of wind can also reshape the wood which can lead to it shifting or leaning into your neighbor's yard.
4. Vinyl Wood Doesn't Warp
Harsh climates will make your wood more susceptible to warping. You can treat the wood to make it appear pristine, but its strength will decrease over time.
Wood-grain vinyl is manufactured to last longer and hold its shape. Its strength comes from its flexibility. It can expand in intense exposure to sunlight, and return to its shape after it cools down.
Under the same fluctuation of temperatures, wood will begin to chip and lose its strength.
5. Vinyl Is Cheaper in the Long Run
Vinyl fencing materials are more expensive initially. Wood is cheaper and can be found at about $12 per linear foot, while wood-grain vinyl is about $17.
The upkeep on your wood fence is where the cost can skyrocket. If you want to keep your wooden fence in the best shape possible, you'll need to stain it every year. Before you know it, the cost of finishing and the hours it's going to take for you to protect your wood is going to catch up and exceed the cost of initially installing a vinyl fence.
On the other hand, wood-grain vinyl fences require minimal upkeep. A powerwash here and there is all it will need to keep the appearance of real wood.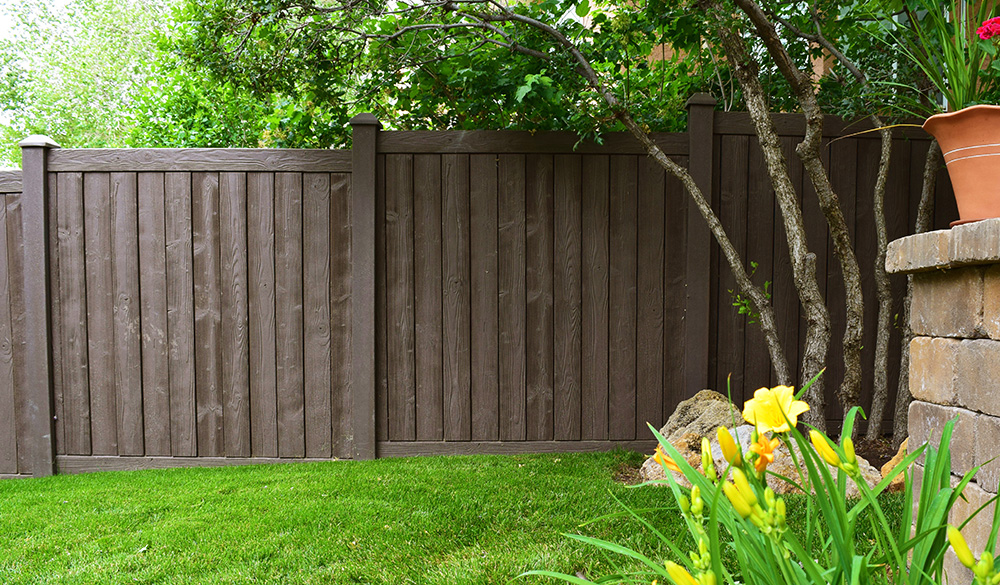 6. Moisture & Insects Enhance Decay
Delignification is what happens when wood is exposed to moisture over a long period of time. The tissue begins to break apart causing the wood to lose its strength. This process is accelerated by salt water.
Wood-boring beetles are another problem common to wood fences. They tunnel through wood and lay their eggs inside of the wood. When the larva hatch, they eat away at the wood, causing your wooden structure to weaken.
7. Wood Finish Is Bad for the Environment
The best way to combat wood rot is with the application of clear finishes such as lacquer or varnish. The problem is that these finishes contain volatile organic compounds (VOCs), which contribute to air pollution and can cause health problems.
Varnishes and lacquers are typically a mixture of harmful binders, making them extremely durable. But these finishes have petroleum-derived solvent content that can be harmful towards both you and the environment.
8. Simulated Wood Will Look Newer, Longer
Installing a fence is a great way to increase your home's value. Fences add curb appeal, privacy and can keep your kids and pets safe when they're playing in the yard.
Except if your fence is poorly maintained. Wood fences need to be treated so they don't rot and become an eyesore around your property. An unsightly fence could also potentially decrease the value of your property.
Vinyl wood will keep its newly-installed appearance for years to come. Taking a pressure washer to the panels each spring will ensure your fence looks new all year round.
9. Wood-Grain Vinyl Fences Are Backed by a Lifetime Warranty
There is an expiration date for wood. You can buy lumber of varying quality, so the exact date is different for every fence. 20 years is usually how long wood fences will last with regular maintenance.
Vinyl can last up to 100 years. The longevity of this material is unmatched when it comes to fencing.
While an untreated wood fence may last 5-7 years, Vinyl Fence Wholesaler's fences come with a 100% backed commercial lifetime warranty.
If you're considering a wooden look for your yard's fence, try using a material that will last a lifetime. Our SimTek Ashland Privacy Fence will outlive any wood on the market and will remain planted in your yard for years to come.