4 Key Factors to Consider When Choosing Your Deck Material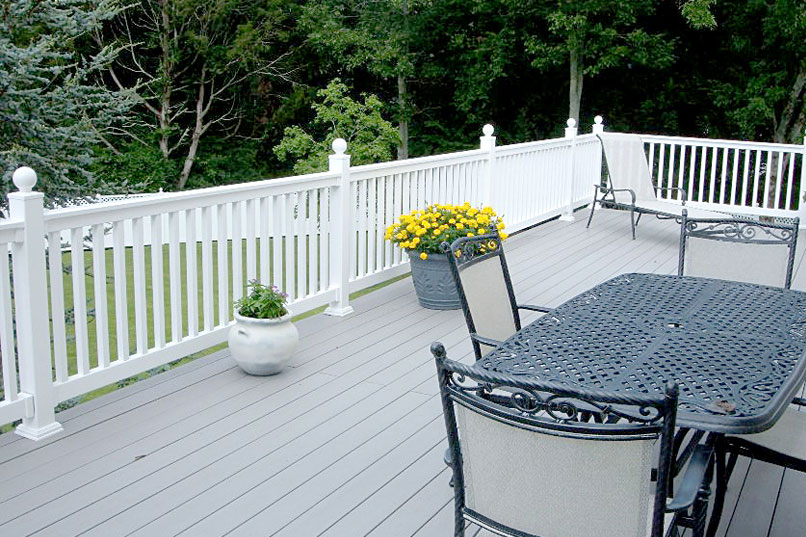 Your deck is your escape. It's your personal space that allows you to detach from the phone that won't stop ringing and the television that won't stay off. The process of building one can be as unique as your taste and personality.
It can also be time consuming. Before starting any project on your home, or in this case, attached to your home, you'll first need to take the time to determine which is the best outdoor decking material for you.
Here's what to consider when choosing between deck materials.
1. Durability and Longevity
Wood
Wood decks vary in durability. First is the question of which wood material you should use, be it redwood, cedar, pine or tropical hardwood.
Pine will leave you more exposed to decay and rotting while redwood can attract bugs, and cedar costs a fortune to seal. Tropical hardwoods are tough, but they don't take to protections like stains, which in turn can affect the longevity of the wood's color.
Pressure-treated lumber is popular for its affordability and availability. Unfortunately, this material is known for its dimensional instability which can lead to your deck cracking, thus making it among the least durable materials.
Advanced Vinyl Composite
A deck that comes with a lifetime warranty should be enough to prove vinyl is the most durable deck material, but there's more tangible evidence that supports this claim.
Vinyl decking will never split, splinter, rot or warp. It's also weather and stain resistant. This makes it the ideal material for people living in areas with high rain and snow counts.
Vinyl decks are also flame resistant, making them safe to be around campfires.
Aluminum
Like vinyl, aluminum is also flame resistant. Aluminum is also the lightest material on the market and is one of the strongest. Wood-boring bugs will never be an issue, and you'll never hear of metal knotting.
The rigidity of aluminum is one of its greatest strengths, along with its inability to rust and warp. Most aluminum decking material also comes with a finish that is made to last forever which minimizes maintenance.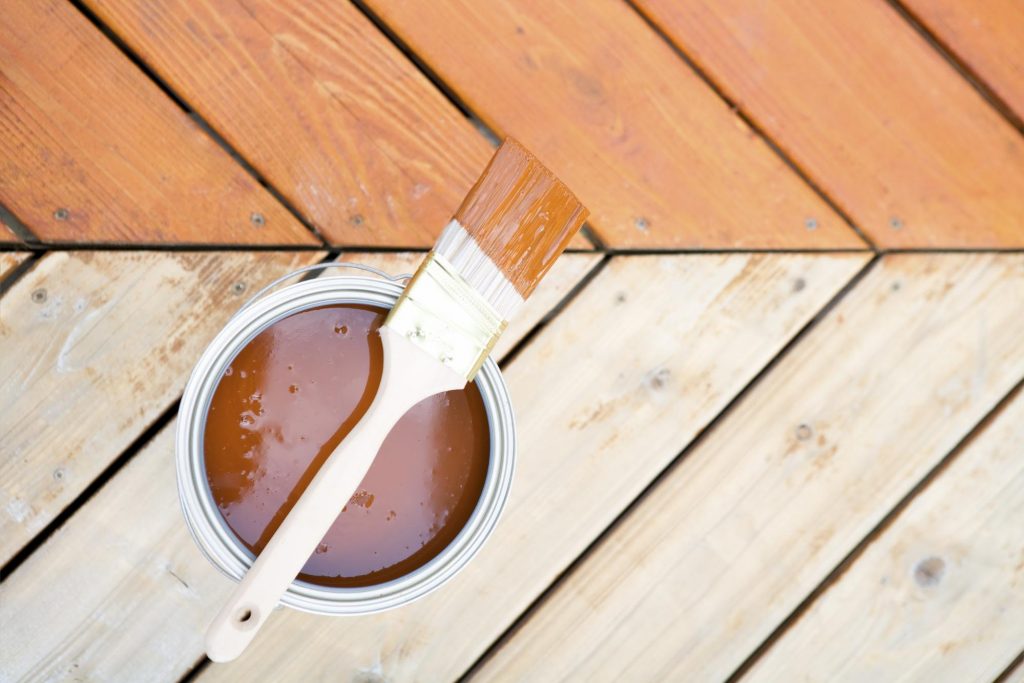 2. General Upkeep
Wood
Even the most pristine lumber like redwood and cedar requires an annual power wash to keep the wood clean. It is also recommended you add a coat of finish every 3 to 4 years. And if you live in an extreme weather climate with dramatic temperature changes or excessive precipitation, you'll want to apply a special water-repellent wood preservative.
Depending on the wood, rotting will eventually occur over time. Many woods will state they are rot-resistant, but over time with decay and the possibility of wood-boring bugs, wood is never in the clear.
It's going to take more work to keep the fresh color you're looking for depending on the type of wood you select. It's recommended to apply stain every other year to keep the wood looking as fresh as the day you bought it.
Advanced Vinyl Composite
You can kiss the long days of staining your deck goodbye with vinyl composite material. Vinyl material is water resistant, making decay nearly impossible.
The density of this low-maintenance deck will protect against the wear and tear of high-traffic areas. This also means the color stays, and you can select a beautiful wooden appearance without any of the work.
Aluminum
Aluminum is the toughest material — it takes a mighty blow to dent or scratch it. But it will collect dirt and grime easily. You could find yourself spending more time scrubbing than relaxing.
Most aluminum styles come with interlocking edges and are gap-free. This prevents water from getting through, but the channels can fill with debris and create pools of water on your deck. It's important to remember to check and clear these channels after rainfall.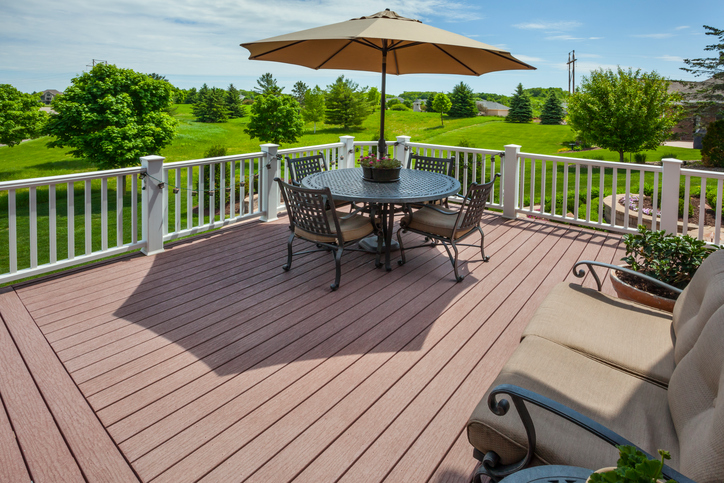 3. Aesthetic Appeal
Wood
Wood provides that classic deck look you grew up with. However, the more unique the look, the more time you're going to spend cutting and installing the wood.
Wood decks can also change color over time if they're not treated properly. If you skip a few years of staining, your strong red cedar can suddenly turn grey.
Advanced Vinyl Composite
Vinyl is the most versatile material for whatever design you can imagine. You won't need to find a specific piece of lumber density for certain cutting techniques. The vinyl material is strong and universal enough for any design you're looking for.
One of the most appealing advantages of vinyl is you get the appearance of wood without the maintenance. No water repellent or stain is needed to maintain the chic, wood appearance you're searching for in a deck.
The texture of the vinyl will also provide an authentic wood appearance. It also adds traction so you're not sliding around in your socks.
Aluminum
Aluminum decks can be loud to walk on, and they lack a natural appearance. If you're looking for a material that could pass for wood, aluminum is the last material you would choose.
This tough-as-nails material looks the part. Aluminum lacks the elegance of a vinyl deck, and its man-made appearance will be tough to pair with the thriving natural environment that surrounds you in your backyard.
4. Cost Effectiveness
Wood
You get what you pay for when it comes to the quality of a wood deck. A cheaper wood will save you money in the short term, but could present costly issues down the road.
To give you an idea of the fluctuation in price for wood, here's an example of two popular wood materials used for decks.
Pine: $5-11/square foot
Redwood: $5-35/square foot
Maintenance costs also rise with the tenure of your wood deck. The longer you keep your pine deck installed, the more money you'll spend on finish and stain, and the more time you will spend applying these protective materials.
Advanced Vinyl Composite
Vinyl composite decking is consistently the most cost-effective material on the market. It can average anywhere from $4-8/square foot. There won't be any maintenance cost, either (outside of the occasional power wash).
Alumnium
Aluminum is consistently the most expensive material on the market. Its toughness against time and bugs is reflected in the price. Aluminum decking goes for about $11/square foot. Its durability comes at a cost that could set you back on that cozy deck furniture you want.
The Winner
Advanced Vinyl Composite: It's the 21st century, and it's time for your deck to reflect that. With its low cost, variety of styles and unmatched longevity, vinyl is the perfect material for the new deck you've been dreaming of.
Vinyl Fence and Deck offers great materials for your vinyl deck that are cost effective and will last a lifetime. We also offer an installation support team that can help you with anything you need around the clock.
Your personal paradise is out there, now let Vinyl Fence and Deck help you build it.