How to Build a Fence on a Slope: 2 Easy DIY Installation Methods
So you've got your shiny new vinyl fence in the mail and have a general idea of how to install it. If you forgot to take into account the varying levels of elevation in your yard until just now — fear not! Fortunately, installing a fence on uneven ground is not rocket science.
Installing a fence on a hill doesn't have to mean leveling your yard with heavy equipment. For starters, it's expensive and labor-intensive to level a yard — and it takes away the natural beauty of a sloped yard.
There are two commonly used methods for installing a fence on a slope that you can do yourself, and before you pick which one is the most aesthetically pleasing, carefully consider which works best for you and your family.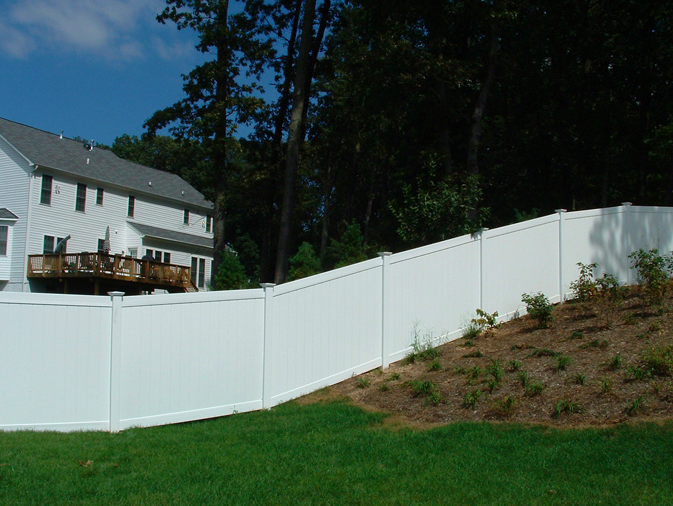 1. Racked Fences: Installing a Fence on a Slope
Racking (also called raking) is the most popular way to adjust to slopes in a yard.
Racked fences follow the contours of the ground, leaving no gaps between the bottom of the rail and the ground. This method of adjusting to slopes gives your fence a more uniform, smooth appearance.
After plotting your fence line with string, you will be able to clearly see the changes in elevation in your yard. For angles over 10 degrees, you will need to trim the rails (horizontal panels of fence) accordingly. Otherwise, no trimming is needed.
With racked fences, it is important to keep in mind that any slope over 15 degrees will generally be too severe to install. We're happy to help you find a better solution for your fence if that's the case.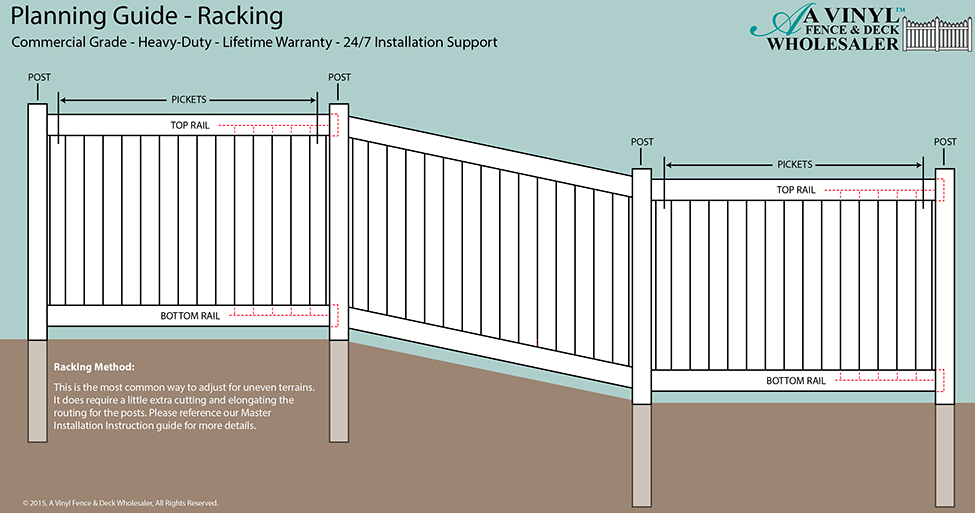 Is Racked Fencing for You?
Racked fences are great options for those with gently sloped yards. They are also the better option for families with dogs, as they are typically built without any spaces between the rail and ground, minimizing any opportunities for escape!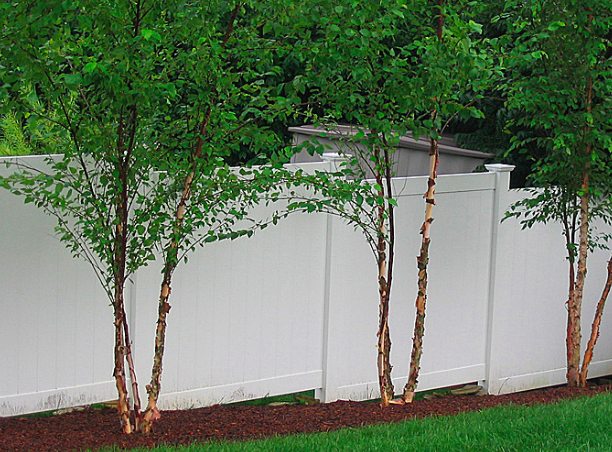 2. Stepped Fences: Installing a Fence on a Slope
Building a stepped fence is the alternative to racking. If your yard has steeper grades, stepping your vinyl fence might be the best option for you! As the name suggests, stepping a fence will result in an uneven rail line that resembles stairs.
The panels of a stepped fence do not follow the shape of the land, and they leave a triangular gap between the bottom rail and ground. To install a stepped fence, you will need to trim the posts of the fence accordingly.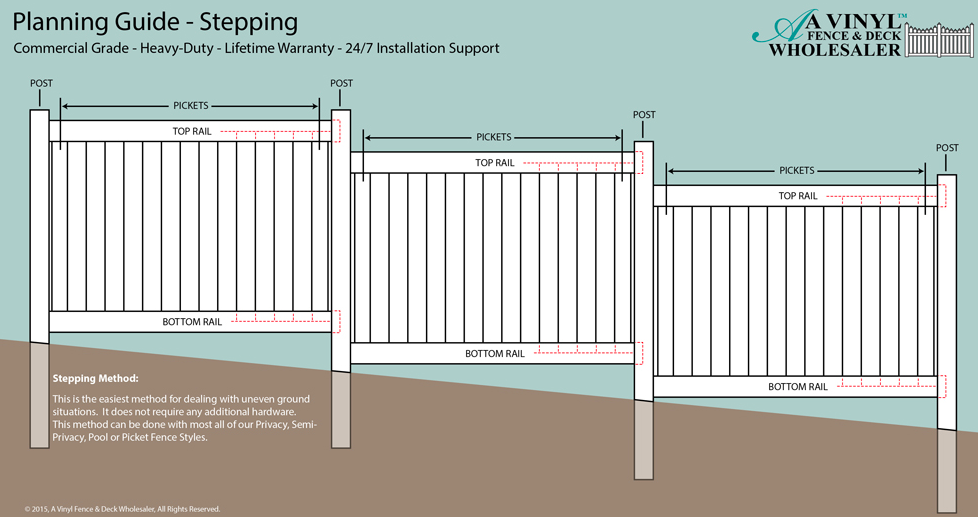 Is Stepped Fencing for You?
Because stepping a fence will not hug the ground as a racked fence will, pets can escape with greater ease under the gaps. However, depending on the severity, this can be remedied by filling the gaps with soil. As we said before, stepped fencing is the preferred method when your property has larger slopes.
Need Help? Give Us a Call!
Whichever method you choose for your yard, know that we'll always be here to help if you encounter any trouble. Please refer to our vinyl fence planning guide, or give us a call!