Personalize Your American Dream With These White Picket Fence Ideas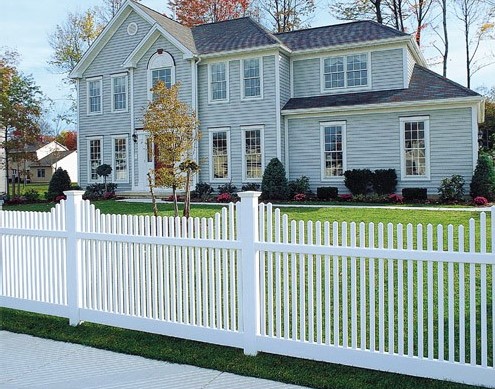 You and your partner are officially homeowners. You found a piece of land in an up-and-coming suburb or maybe you picked the perfect spot in a neighborhood that was developed years ago. This is where your future will unfold.
Outside the back window is a yard for Buddy, your Golden Retriever, to roam freely. And in the corner, overlooking the pond, are two trees where the hammock will go. There's also plenty of space for that garden you always wanted so you can plant raspberries.
Congratulations, you have achieved the proverbial American Dream. The only thing that's missing is a white picket fence.
Brainstorming white picket fence ideas for the perimeter of your yard can be overwhelming. Here are a few white picket fence designs to consider to protect Buddy and your future kids.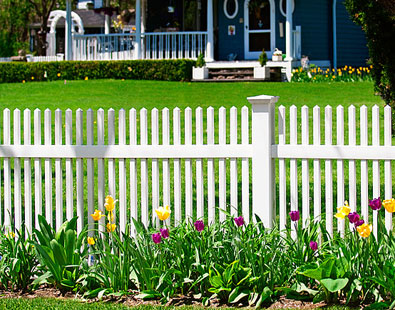 Standard Picket
The standard picket is the most likely fence design that comes to mind when you hear "white picket fence." It's portrayed all over Hollywood, and it's about 3-6 feet tall with approximately 3.5 inches of space between pickets. It's a good fence to keep your kids and pets out of neighbors' yards and off the street.
Just because it's the stereotypical white picket fence doesn't mean it can't be original. The standard style can come in a variety of picket fence patterns ranging from the amount of rails cutting across the fence to the amount of space between pickets.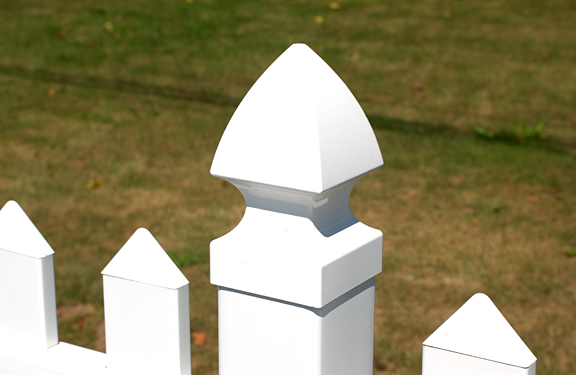 Picket Fence Post Caps
Your picket fence posts can't look like stakes in the ground. They need something to cover the top. Here are some popular styles that will give your picket fence a distinctive, unique look:
Spade: Think playing card suit with a top that comes to a point.
Ball: A sphere extending above the post.
Gothic: Looks like a bloated pyramid on a platform.
New England: Slightly elevated above the top of the post with a flat surface.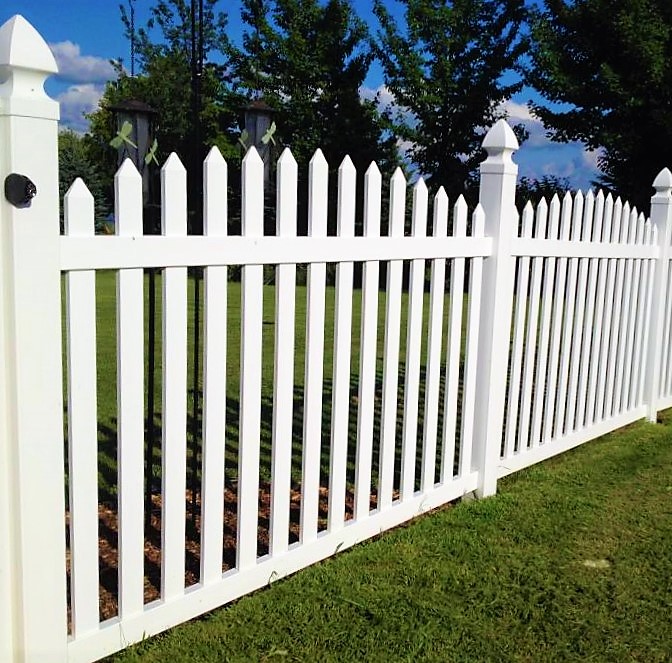 Curved Picket
A curved picket design will give a wavy look to your white picket fence. If a standard white picket fence doesn't bring enough curb appeal to your property, a curved picket fence will make neighbors stop in their tracks.
The curved category actually has several subcategories based on your preference:
Convex/Arch: Convex picket fence designs will have the vinyl peak in height between the posts.
Concave/Scallop: Concave picket fence designs will put the focal point on the posts while the vinyl dips toward the center.
Why Vinyl?
Finding the material you want to use for your fence should be one of the first steps. Vinyl gives you the most bang for your buck, and here's why:
Lightweight
Withstands winds up to 130 mph
Flexible
Nearly maintenance free
Reasonably priced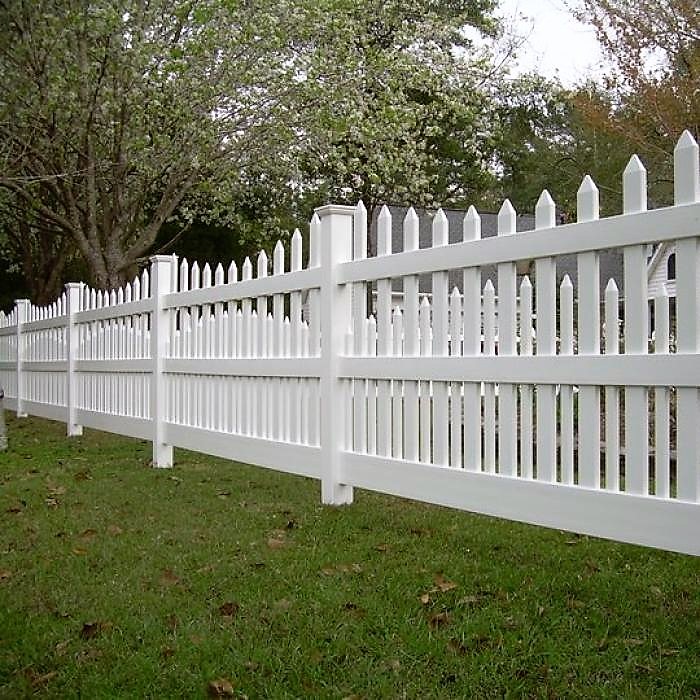 Double Picket Fence
If you want a greater sense of protection, look no further than the double picket. The name is exactly what you're going to get. It has a subtle feel of sophistication, and you don't lose style points if you go with the Denver model, which combines convex and concave designs.
Picking the perfect picket style for your fence may seem overwhelming with the amount of options available. If you're feeling panicked, start with Vinyl Fence. We have 8 different styles to pair with your American dream. And Buddy will be sure to love it, too.