8 Considerations When Brainstorming Outdoor Railing Ideas for Decks & Porches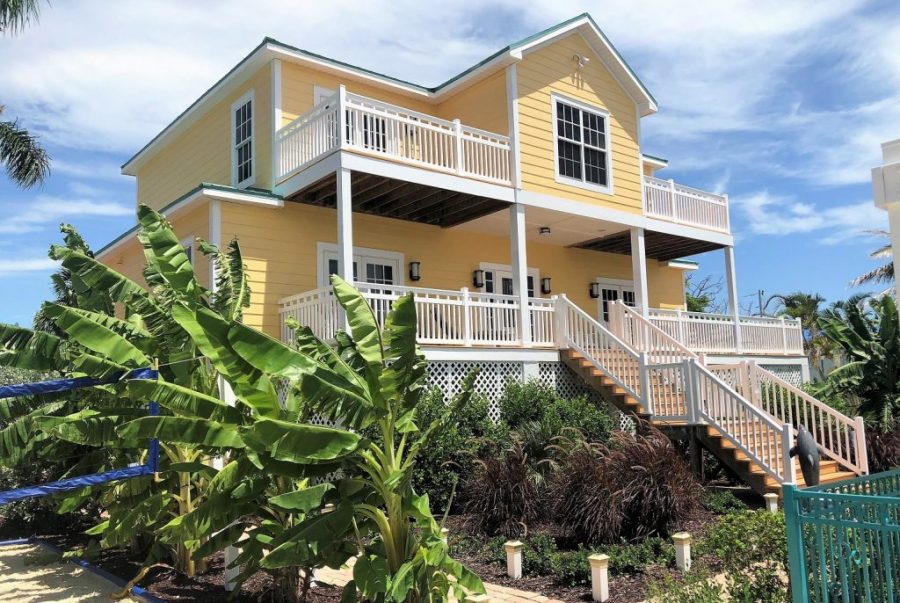 Your new deck or porch project isn't finished until you install a proper railing system that not only looks great but provides safety around elevated surfaces. But not just any system will do. This process should be well thought out.
Before plunging head first into a million vinyl outdoor railing ideas, consider these features for your deck or porch.
1. Follow City Code
Just like with any addition to your home — whether it's a fence or deck — make sure you're aware of your city's zoning laws. Minneapolis has an easy-to-follow guide on their website so you can ensure your vinyl deck railings are meeting the standards set by the city.
There are two main measurements you'll have to keep an eye on. The first is the baluster space, which is the gap between spindles along your deck. Most cities and states require at least 4 inches, but you might want to go narrower, especially if you have small pets or babies walking around.
The second measurement is railing height. Call your local building department to get the specifics. Don't worry, 36-42 inches is plenty high without blocking your view.
2. What's Your House Architecture and Color Like?
When deck planning, a lot of thought should go into choosing the right material. It's important to consider how the material or style will look next to your house.
Look at your siding. Is it dark or lighter? If the deck you built is dark brown and matches your home's siding, consider a lighter Winston railing. The white will pop across your yard and draw attention to the dark, pristine condition of your home and deck.
Do you have a long and low ranch-style home with a short deck and porch? Try a cross-panel vinyl porch railing style that will help exaggerate the width of your home, making it appear longer than it is.
If you have multiple levels to your home with a deck around the second floor and porch around the first, install the same railing system on each level to provide a sense of continuity. An elegant Boston-style railing system will look great with its long and skinny balusters.
3. Where Are You Located?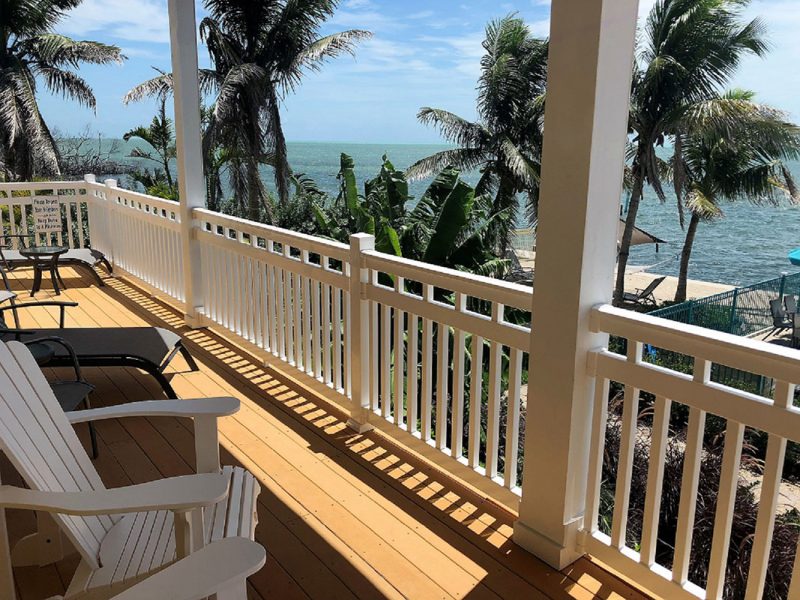 Before picking a material and style for your deck or porch railings, consider the climate you're in. Weather can play a major role in the material you end up using for your railings.
You probably went through this same process with your deck. Corrosion will occur on metal materials. It will appear sooner or later if you're in a dry climate, but if you're in an area like the Pacific Northwest, the amount of moisture in the air is going to accelerate the process. You're in more danger for corrosion if you're near seawater, as the salt in the air actually accelerates the creation of rust even more.
Corrosion can have an effect on wood as well. It's a process called delignification that pulls wood fibers from a piece of wood. Without constant maintenance — i.e., staining and painting — you could be in trouble.
4. Levels of Maintenance
Wood railings bring a timeless look to any deck or patio. They can be cheap to buy in bulk and complement the features of your home so well your neighbors will be dying to come over and look. But, the trick is having that "wow factor" last.
Simply put, wood requires a lot of maintenance. After consecutive rainy spring and summer seasons, the finish will begin to wear and you'll find yourself staining individual balusters once the snow melts. This means taking out the short-bristle paint brush and covering every last square inch of those baluster joints with a protective stain coat.
Will you have time for that? It's hard to look into the crystal ball and ask yourself those type of questions, but it's necessary.
If you have time, great. If you want to finish the project and move on to the next one, vinyl deck railings are here to save you time. The only maintenance vinyl needs is an occasional power wash to keep your railings looking as good as the day you installed them.
5. How Sustainable is Your Railing Material?
Decks are a great luxury to have on your home. The elevated surface give you a great view of your yard and the surrounding land. But don't forget about the safety aspect.
If your deck is made of wood, a yearly safety check will help you identify potential problems with the material that's prone to rot and decay.
Balusters for the railing can become loose if they're wood or metal. The issue of loose balusters will mean money spent on replacement, and time spent re-installing.
6. How's the View?
If you're located in the mountains with peaks and valleys visible from your home's deck or on the vast great plains with epic sunsets, you don't want railings on your deck or porch impeding your view.
Glass panels have grown in popularity for railings. Glass allows for protection against the wind and provides transparency so you can look straight through.
If you live in a harsh climate, glass could be tricky to maintain and expensive to repair. For a more reasonable option, consider an aluminum and vinyl mix. Thin aluminum spindles are practically see-through, and if they're attached to vinyl railings, you won't have to worry about sustainability.
7. Possible Accessories and Add Ons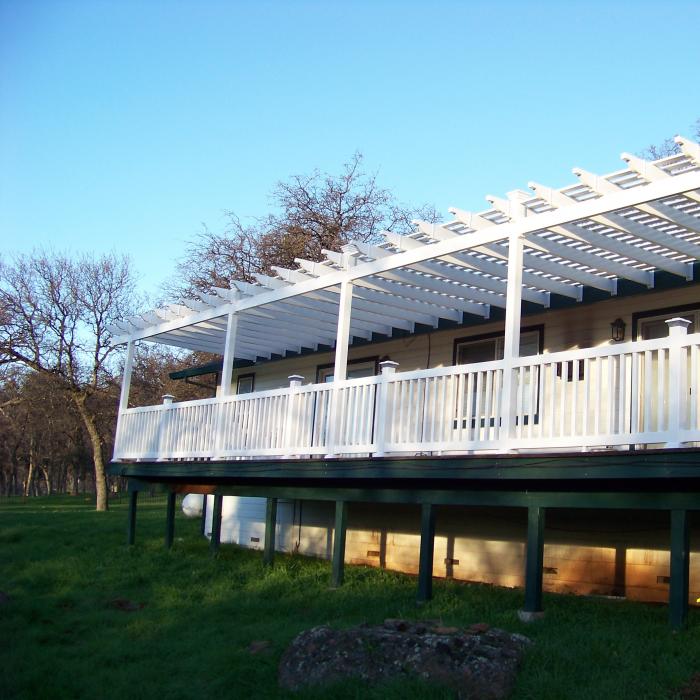 Much like your yard, your deck has a ton of potential for add-ons and accessories to make it as unique as your personality. Adding deck furniture and a grill is a good start, but there's so many more considerations.
Deck railing attachments like vinyl pergolas can make for a great addition to your deck. This accessory attaches to your deck's railing from a post extension and can attach to your house. Pergolas provide extra flair and sun protection when you're on the deck or porch.
Similar posts can be erected around your railing for light attachments. You can attach lights that are dimmer than a flood light onto your home. These lights can create a light, intimate atmosphere within your deck.
8. Don't Be Afraid to Mix Materials
In some instances, one material may not do the trick. If you like the look of wood, the strength of aluminum and the sustainability of vinyl — try combining them.
Vinyl Fence Wholesaler offers a unique vinyl-aluminum combination with our Houston Vinyl Railing system. The white vinyl posts and top and bottom rails are contrasted by the black square aluminum spindles for a timeless look.
We offer 9 vinyl railing systems for your deck or patio in various styles that will fit the look you're looking for while providing safety to those enjoying the view from your deck.
Vinyl Fence Wholesaler ships material fast. After working with us to get a quote, we can ship your railing systems within 48 hours so you can wrap up your project and start enjoying the outdoors from the comfort of your home.