How to Deal With Nosy Neighbors: 4 Vinyl Privacy Fence Ideas to Consider
Though certainly not always the case, privacy from neighbors can be a cause for concern for homeowners in urban or suburban neighborhoods where homes are situated closely together. While having neighbors closeby has several benefits, neighbors who pry a little too often can become irritating or even distressing.
If you're wondering how to deal with nosy neighbors we have the solution for you! When it comes to privacy, there is no other option that can bring you peace of mind quite like a vinyl privacy fence. While others might suggest planting hedges and bushes, these can take years to mature and don't offer the same level of security that a fence can.
Besides privacy, these low maintenance fences offer these additional benefits:
Minimal maintenance

Exceeding durability (

backed by a lifetime warranty

)

Fade-resistant

Multiple color choices for every type of privacy fence

Enhanced level of security for kids & pets

Highway noise reduction

Easy to install

Adds value to your property
Our vinyl privacy fences are durable enough to withstand wind gusts of up to 130mph! Watch our video to see for yourself.
Privacy Fence Ideas
There are hundreds of reasons to choose a vinyl privacy fence over other options or materials. Now that you know a few of the top reasons, let's go over some of our most popular models sure to keep nosy neighbors at bay.

For those who love the look of a classic wood fence, but aren't too crazy about the high levels of maintenance they require, this fence might be for you! The surface of this beautiful vinyl fence is molded to imitate the appearance of a true wood fence and comes in multiple natural wood colors.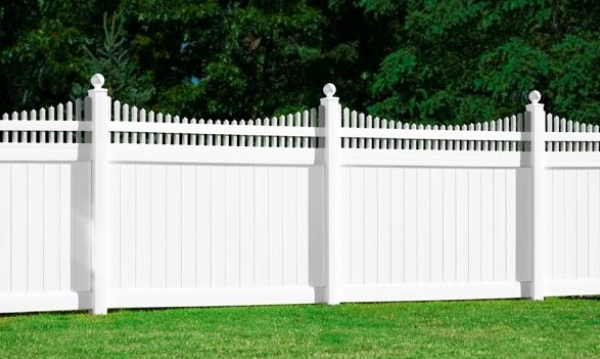 A tried-and-true customer favorite, meet our classic vinyl privacy fences. Whether you opt for our simple Rainier style or our picket-fence styled New York fence, these striking designs will beautify your yard while ensuring ultimate privacy. Choose from several different colors and variations!
Another amazing choice for those looking for a little more texture and color from their fence — the Simulated Stone privacy fence is built with durability and privacy in mind and can be customized to your liking.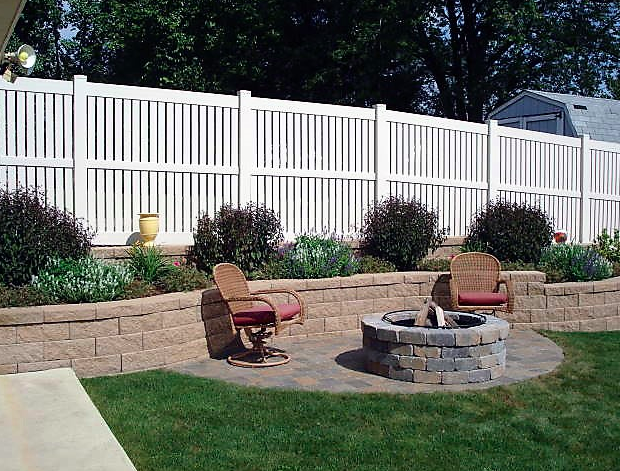 For those who want a little extra security but don't need a full privacy fence, we recommend a semi-privacy fence! If you're not trying to fully restrict your yard — but still want to make a statement — the semi-privacy fence makes for a perfect in-between. These fences are often used for pool security but work well as a general yard fence, too.
Installing Your New Privacy Fence
Installing a privacy fence doesn't have to be a formidable task! With our comprehensive guide, the whole process is a breeze from start to finish.
If you're reaching a breaking point with nosy neighbors, don't wait! Your family deserves to enjoy your outdoor space without worry. Contact us any time for a free quote, or for answers to your questions about your vinyl privacy fence ideas.