9 Fun & Easy Backyard Fence Lighting Ideas Perfect for Summer
When it comes to living in the upper-Midwest, people know how to take advantage of a good thing when they know it won't last long. Take summer, for instance. In a colder climate like Minnesota, it's imperative to take full advantage of warmer weather. Making an excuse to be outside is one of our specialties.
Spending time outdoors right at home is one of the best ways to soak up summer. Make it even better with these backyard fence lighting ideas that will not only create the ambiance you want but will also establish a greater sense of security in your backyard.
Here are some creative ways to enhance your outdoor experience this summer:
Hang String Lights on Your Fence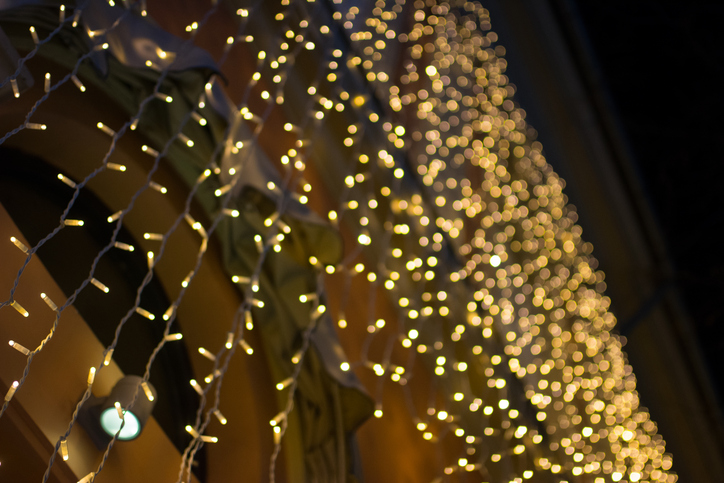 Add a glowing border to your backyard getaway with a few different string lighting styles that you can easily hang from your fence.
• Outline: Stringing LED lights across the top or on a ledge of your fence is a perfect way to create a border around your backyard.
• Draping: Draping is when you hang a string of lights from post to post, creating natural peaks and valleys of light along the fence.
• Hanging: Hanging several strings of lights at a time on your fence will light up your backyard like never before. The numerous strands of light falling down the face of your fence will create a beautiful and celebratory atmosphere.
Add Post Mount Lights to Your Fence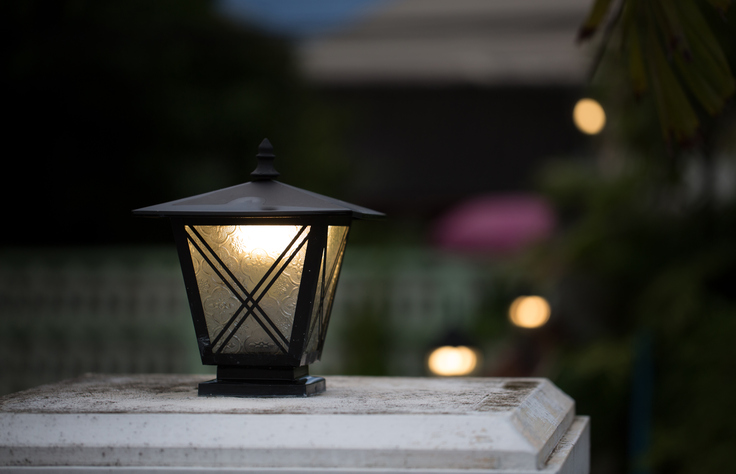 Post mount lights are installed on top of the posts of your fence. Many post mount lights are designed to look like lanterns on top of your fence. They make perfect accents for entryways and gates along the fence.
Post mount lights are similar to many fence lighting options in that they can be installed with 12 to 120-volt bulbs. Although we encourage you to go with lower voltage to save on cost, a higher voltage can provide a greater sense of security with a brighter light.
If security is your top priority, we suggest you go with a spotlight or floodlight style of post mount lighting. The powerful illumination they provide your backyard with is unparalleled to any other style of fence lighting.
Light Your Fence with Wall Mounts
Wall mount lighting is when you install the light against the side of your fence. Unlike post mount lights, mount lights will ensure the illumination from the bulb is directed toward your yard and not your neighbors'.
Wall mounts also come in a variety of styles corresponding to the function you wish to achieve from your fence lighting.
Sconce Lighting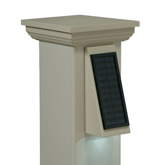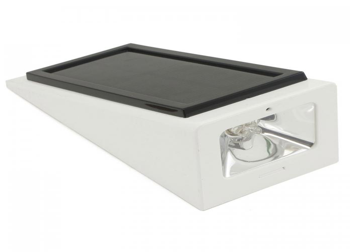 A creative way to use wall mounts is with sconce lighting. These lights are placed on the face of fence posts and are directed toward the ground. Sconce lighting emphasizes the surrounding landscape near the fence. They are also helpful to spotlight areas people should avoid like a pond or flower pot.
Illuminate Your Walkway and Fence with Well Lights
Well lights are placed directly in or on the ground that project light toward the sky. Well lights are a great way to illuminate a walkway in your backyard.
When you install well lights next to your fence, you're illuminating the border of your yard in a technique called "uplighting."
If your fence has texture, like our simulated stone or simulated wood options, well lights can provide interesting shading effects that add character to the outline of your property.
Silhouetting
Silhouetting is a method of lighting intended to set a tone or mood. Installed as a well light, silhouetting can be achieved by placing the light on the ground tilted towards the fence and in front of a bush, plant or decoration. The light will silhouette the featured object on the fence for a dramatic effect.
Top Your Fence with Post Cap Lights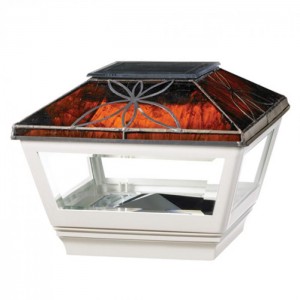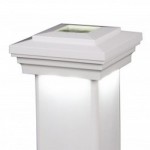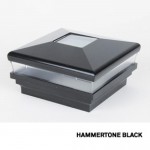 Low voltage vinyl post cap lights are popular fence fixtures that will spruce any yard. They are easy to install and simple to maintain. LED-lighted vinyl post caps are energy-efficient options that bring style and security to your yard.
Vinyl Fence Wholesaler offers more than 30 low voltage, solar powered vinyl post cap options. The solar panel on top of the post cap absorbs sunlight throughout the day in a rechargeable battery. It converts the energy to the LED light at night, projecting a beautiful shine on your fence.
Post cap lights are versatile for any summer backyard lighting arrangement and they can be combined with any of these lighting techniques listed above.
Ready to improve the ambiance in your backyard? Contact Vinyl Fence Wholesaler and get a free quote before you start mixing and matching lighting styles for any season!